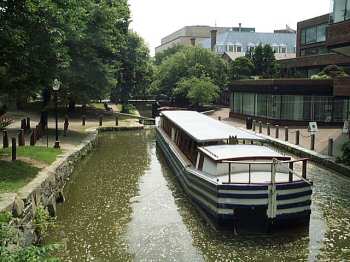 Mile 0 - The Georgetown Canal Basin
The canal's first few hundred yards is lined with shops and a series of lift locks. Barge rides are also available here during the summer months. The towpath begins as a red brick walkway along the north side of the canal bed. After a few blocks, the towpath's gravel/clay towpath surface begins. The path is very narrow here, and considering all the pedestrian traffic, makes it very difficult to navigate by bike. The towpath crosses over to the south side of the canal just prior to Key Bridge.
For the first three miles or so, the towpath surface is fairly rough due to the heavy traffic load in the section. This is why I recommend that you use the parallel Capital Crescent Trail. The paved CCT begins at the western end of K Street (under the Whitehurst Freeway). At this point it is not apparent that the two trails are next to each other, as there is a 40-50 foot elevation differential and forest growth between the trails. The two trails meet at Fletcher's Boathouse (mile 3.1). In addition to a snack bar, boat and bicycle rentals are available here. The CCT trail crosses over the towpath about a half mile past the boathouse and heads north to Bethesda and Silver Spring.
By mile 5, the towpath traffic reduces significantly. Between miles 8 and 10 is the area known as seven locks (since there are seven lift-locks here). The canal passes under the Capital Beltway at mile 9.3 and you enter the area known as Carderock. The half mile long building to the north is the David Taylor Model Basin where the Navy tests scale models of new ships
Connecting Rides:
Here are some short rides that make use of the towpath along this section.
Lodging Tips: You will find the least expensive lodging options on the Virginia side of the Potomac river. Two recommended locations are Rossyln (across the river from Georgetown) and Crystal City (down near Reagan National Airport). Both are easy to access by bicycle (via the Key Bridge), and offer decent bicycle or subway access to the DC tourist areas.
Parking Tips: (Keep this quiet) <grin> A good place to leave your car is at Reagan National Airport's Economy Lot. This lot is only $9 per day (much cheaper than downtown garages), and the Mount Vernon Trail will take you right up to the towpath (via Key Bridge).
If you wish to park near to the trailhead, you should use one of Georgetown's many private underground parking lots. For example, the lot located at the corner of Wisconsin Ave and Water Streets was charging about $14 per day. These lots are pretty secure and should keep your car safe. Cheaper garages may be found just across the river in the Rossyln section of Arlington, VA.
| Mile | Name | Info | | | | | |
| --- | --- | --- | --- | --- | --- | --- | --- |
| 0.0 | Mile Marker 0 (map) | Located next to the original Watergate, on the Potomac shoreline, right next to Thompson Boat Center. Accessible only from the boat center. | | | | | |
| 0.1 | Thompson's Boat Center (map) | 202.333.9543: Bicycle rentals (day trips only) - located about a two blocks south of the towpath trail head, right on the river shore, at the corner of Rock Creek Pkwy and Virginia Ave. | | | | | |
| 0.1 | Tabard Inn (map) | 202.785.1277: Located in Dupont Circle Area. 1739 N Street, NW | | | | X | |
| 0.1 | Washington DC Hostel (map) | 202.737.2333: Located at 11th and K Streets, NW (near the Convention Center). | | | | X | |
| 0.1 | Washington Harbour (map) | Several outdoor cafes along the waterfront. | X | | | | |
| 0.3 | Start of Towpath | Just south of the Pennsylvania Ave and Rock Creek Pkwy intersection. Continue downstream via the Rock Creek Bicycle Trail. | | | | | X |
| 0.5 | Georgetown Visitor Center | 202.653.5190: National Park Visitor Center. Canal boat rides available. 1057 Thomas Jefferson St, NW, Washington, DC 20007 | | | | | X |
| 1.0 | Key Bridge (map) | Easy bicycle access to Rosslyn, VA, the Mount Vernon Trail, and Reagan National Airport. Many inexpensive hotels. | | | | | |
| 1.0 | The Inn of Rosslyn (map) | 703-524-3400: Inexpensive motel, access via Key Bridge. 1601 Arlington Blvd, Arlington, VA | | | | X | |
| 1.6 | Georgetown University (map) | Access via tunnel underneath the Canal. Near intersection of Canal and Foxhall Roads. | | | | | X |
| 3.1 | Fletcher's Cove | 202.244.0461: Snack Bar. Single-speed bike and boat rentals. Nice area for a picnic. Parking available. | X | X | | | X |
| 3.6 | Capital Crescent Trail Trestle | This former railroad trestle now carries a very popular paved trail to downtown Bethesda, MD. Easier access point at mile 3.1. It is about 4 miles uphill to Bethesda. | | | | | |
| 4.0 | Chain Bridge (map) | Last bicycle river crossing to Virginia until Milepost 34.5 | | | | | X |
| 4.7 | Maryland State Line | | | | | | |
| 5.0 | Lock #5 | Modern footbridge over parkway to Ridge Drive near the corner 61st Street. | | | | | X |
| 5.4 | Lock #6 | Parking area along Clara Barton Parkway | | | | | X |
| 5.4 | Lockhouse 6 | Stay overnight in a real lock house. Modern kitchen, bath with shower, central heat and AC. Book online. | | | | X | |
| 5.8 | Little Falls Pumping Stations | | | | | | |
| 7.0 | Lock #7 | Parking area along Clara Barton Parkway | | | | | X |
| 7.7 | Cabin John Bridge (map) | Free standing stone arch bridge, located about 0.25 mile away from river (via footbridge). Access to MaCarthur Blvd, but difficult with bicycle. | | | | | |
| 8.4 | Cabin John (map) | Cabin John Shopping Center (at MaCarthur and 79th St) located about 0.5 mile away from river (Deli / Store). Cross lock and follow wide path to left. Becomes paved Riverside Ave. Follow thru tunnel and continue 79th St. | X | | | | X |
| 8.8 | Lock #10 | Parking area along Clara Barton Parkway | | X | | | X |
| 8.8 | Lockhouse 10 (map) | Stay overnight in a real lock house. 1930s kitchen, bath with shower, central heat and AC. | | | | X | |
| 9.3 | Capital Beltway (I-495) | | | | | | |
| 10.8 | Carderock Recreational Area (map) | Picnic, rest rooms, water. Very easy access from I-495. | | X | | | X |