Miles: 16
Difficulty: III
Bikes:
ATB,Hybrid


Key Chain Tour
---
Trails Used
---
Connecting Routes
Beginning at Roosevelt Island, this trail makes use of several popular recreation paths including the C&O Towpath, W&OD Trail, and Custis Trail. The route crosses the Potomac River twice, using the Key and Chain Bridges.
The route starts by crossing the scenic Key Bridge into Georgetown. From Georgetown, you follow the unpaved C&O Towpath for about 3 miles. (Optionally, you can use the paved Capital Crescent Trail for the first two miles). At mile 4.4 (after crossing Chain Bridge), there is a short but real nasty climb up 41st. From here you follow Glebe Road and Williamsburg Blvd along the Arlington/Fairfax County line. For the most part, these roads are fairly wide and thus quite bicycle friendly. Soon after crossing under I-66, the route joins the W&OD Trail in Falls Church, VA (just west of the Route 7 crossing). You follow the W&OD for about 2 miles until reaching the bird sanctuary, where you make a left onto the Custis Trail. This takes you back over to the start.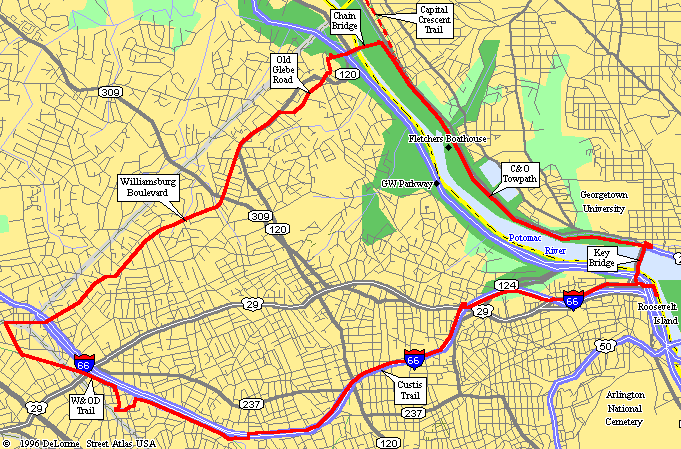 Map of Route

It should also be noted that this map shows two possible bike routes between Bethesda, MD and Tysons Corner, VA. From Bethesda, follow the Capital Crescent Trail down to the route (between Chain Bridge and Fletchers Boathouse).

From here, cross over Chain Bridge and follow the route to the W&OD trail. (Optionally, you can use the longer off-road portion, crossing at Key Bridge). Once reaching the W&OD, head west out to Tysons Corner. The total trip would be about 18 miles using the shorter route.

NOTE: Although tempting, Roosevelt Island's paths are closed to bikes.