The Washington & Old Dominion Trail (W&OD or "Wad") is a great rail trail through the Northern Virginia counties. The entire 45 miles is paved with nine foot wide asphalt and has a painted yellow center line. There is also a parallel horse trail along much of the trail (which can be a nice diversion for ATBs). The only real complaints about this trail are its popularity (it can be quite crowded on some days) and the fact that much of it follows a power line right-of-way.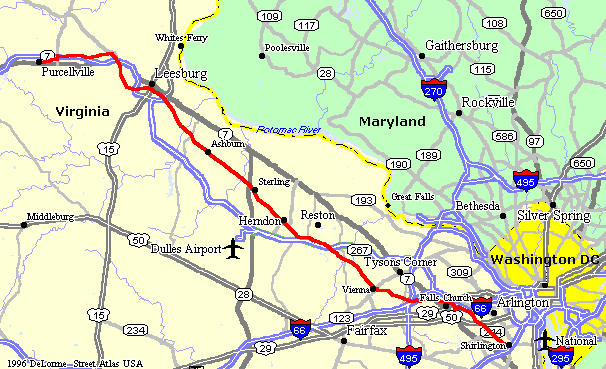 Overview Map of W&OD
The W&OD Trail begins in the Shirlington area of Arlington County, just off I-395 Exit 6. It ends "way-out" in rural Purcellville, VA. Along the way, it passes through quaint villages like Falls Church and Leesburg, and high-tech centers such as Reston and Herndon.
For those planning to ride the entire trail, your total round trip distance will be a whopping 90 Miles. If this sounds a bit much for you, consider breaking the ride into two days. There are numerous hotels and B&Bs listed on the following pages.
---
Related Links