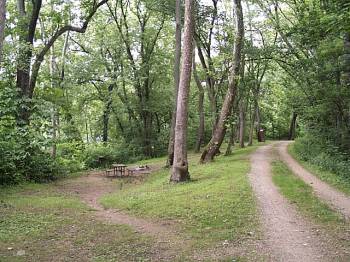 Killiansburg Cave (75.2) is a very typical Hiker/Biker campsite.
Most other sites are located a bit farther from towpath.
Where can I camp along the towpath? There are plenty of camping options along the towpath. Rustic "Hiker/Biker" Campsites (H/B) are provided about every 5 miles beginning at Mile 16. Each camp site has a water pump, Jiffy John, grill, and picnic table. Officially, these sites are "First Come, First Serve" and only one group is permitted at each site (up to eight persons). However, in practical terms it is often necessary to share campsites as I did in 2004. This is a great way to meet other travellers and share experiences.
If you prefer a few more amenities (like pool, showers), then you can choose some of the nice private campgrounds located near the path.
When choosing H/B campsites, you should consider the distance to the nearest "access point". Some may want easy access (for equipment "drops"), while others may want a remote location for "peace and quiet". Also some sites are located next to a railroad or interstate, so don't expect a good night sleep at these locations.
Fires are restricted to fire rings and grills in all H/B campsites. Portable off-ground grills are also permitted, but coals must be removed from the park after use. Dead wood may be collected solely for use in campsite fires. Wood can not be removed from the park.
Note: Fees are required at Drive-In campsites. Fees are charged on a per site/night basis, and apply even if you do not drive in. All other hiker biker sites are free.
For More Information: Refer to the National Park Service Web Site.
Unable to connect to the database server at this time.