Map of the Towpath
ANNOUNCING!
C&O Companion
for iPhone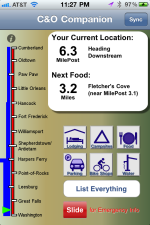 The 184.5 mile long Chesapeake & Ohio Canal is located along the north bank of the Potomac River, starting in Washington, DC and ending in Cumberland, MD. The canal was built between 1828 and 1850, and it operated sporadically between floods until 1924. In 1954, US Supreme Court Justice William O. Douglas organized an eight day hike up the canal's towpath in an effort to save it from being converted to a parkway. His efforts succeeded, and in 1971 the canal became a National Historic Park.
Today, much of the canal has been drained of water and reclaimed by the forest. However, the canal's towpath remains a favorite of hikers, joggers, and bicyclists. Like myself, many local cyclists have considered trying to bike the entire 184 miles between Georgetown and Cumberland, MD. I started biking large sections of the lower 60 miles with high school buddies back around 1981. (This was before ATBs so I used my "Sear's Best" Ross 10-speed). Since then, I've completed five "through trips". Thanks to the new Great Allegheny Passage Trail, it is now possible to ride 330 traffic free miles from Washington, DC all the way to Pittsburgh, PA, as we did in 2007. You can also read about my earlier trips in 1995, 2003, and 2004.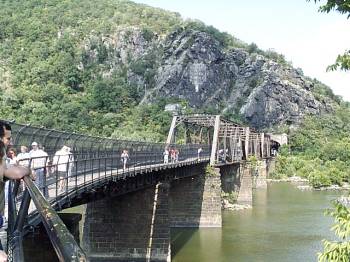 Milepost 61 - Looking at Maryland Heights from Harpers Ferry, WV (towpath at cliff base)
Before you start out on your epic journey, I strongly recommend trying some shorter trips to prepare yourself. The towpath is not paved (the surface is typically clay and crushed stone), so it is a bit rough. Therefore, you will need to build up some calluses on your butt before starting out (no joke). The first 20 miles is the most heavily used and is a good place to practice.