A big thanks to Steve Tkaczyk for providing this monster ride!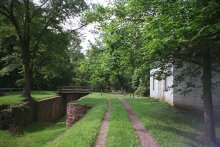 C&O Towpath at Mile 31
This century ride features portions of many favorite trails in the Washington D.C. area. This trip begins in Olde Town Gaithersburg, continues onto the C&O Towpath, crosses the Potomac River on White's Ferry, and into Olde Town Leesburg. From here, the W&OD Trail will take you through Northern Virginia to Shirlington and the ever popular Mount Vernon Trail. Crossing Key Bridge, you join the Capital Crescent Trail which will take you to downtown Bethesda. Through Bethesda, you catch the Rock Creek Trail to Rockville and eventually get back to start. A real mix of city streets, country trails and wilderness! There are no "killer" hills but this route does have ups and downs.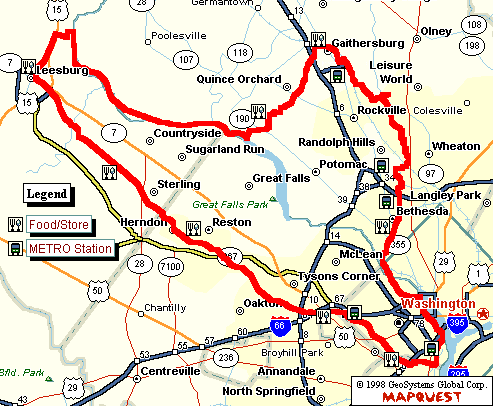 Map of Route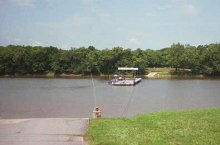 White's Ferry crossing the Potomac River
For convienence, three different starting points have been provided. Many parking places are noted on the cue sheets. Where possible, off road routes are taken and noted (e.g., sidewalks, trails). There are a few short sections of busy on-road riding. Available amenities are noted (Food, Water, etc.). Some restrooms may be primitive!
Although most of the trip is on paved surface, a mountain or hybrid bike is recommended. The condition of the Canal Towpath can vary day-to-day and some paved trails are subject to have gravel patches or debris.