This excellent loop between Easton and Oxford is the classic Maryland Eastern Shore ride. Along the way, you visit several quaint little town, ride across a ferry, and perhaps do some shopping in St Michaels. As an added bonus, this ride is located almost exactly halfway between Washington and the beaches. Thus, it's a great way to break up your trip to the shore.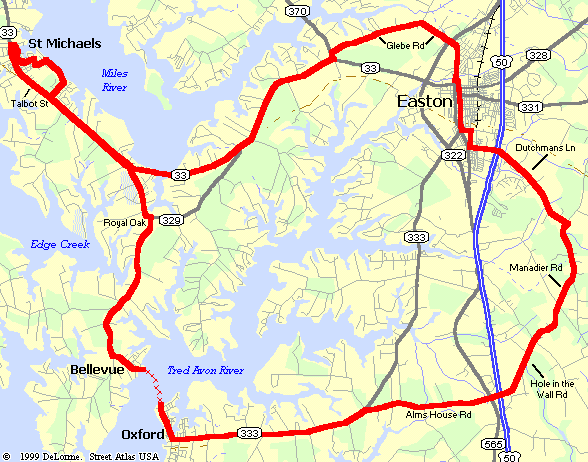 Map of Route
There are a number of good places to start this route. If you are on your way to the beach, you can stop in Easton's Idlewood park, which is an easy ½ mile west of Route 50 along Dutchmans Lane. St Michaels also makes a good start, (especially if you are spending a few days there.) You can adjust the cue sheets to fit your desired starting location.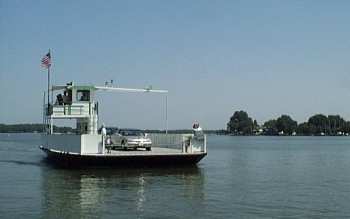 The Oxford - Bellevue Ferry
Click here for Cue Sheets:
This is basically the same ride as #57 from Chuck and Gail's Favorite Bike Rides, with a few minor improvements here and there. The route itself is quite flat. The only "hill" of any substance is at the bridge on Route 33 near Royal Oak. Routes 33 and 333 are fairly busy, however both roads have a nice 8 foot shoulder (signs are posted requiring that bike use the shoulder). The remainder of the route follows sleepy old country roads that typically see very few traffic. One exception (Fall 2005) is that the 1 mile section of Dutchmans Lane just east of Route 50 is a bit harry now due to new housing developments. Use caution here.
Detail of Easton, MD
The highlight of this route is the visit to Oxford, MD and the ferry crossing over the Tred Avon River. The Oxford-Bellevue ferry is billed as the "Nation's Oldest Privately Operated Ferry Service". It began operation in 1683, and has run continuously since 1836. While waiting for the ferry, enjoy a bite to eat from the Oxford Market & Deli (locate just a few blocks before the ferry). The 10 minute ferry ride will cost you $3.00 per bike ($8.00 for cars plus $1.00 for each additional passenger).
Ferry Hours: Opens 9am Weekdays, 9am Weekends.
June 1 thru Labor Day: Closes at 9pm. Other dates: Closes at Sunset.
The ferry does NOT operate Dec 1st thru March 1st.
The longer ride will take you out to St Michaels, MD. This is a favorite Washington getaway location, with many B&Bs, shops, and restaurants. St Michaels is also home to the Chesapeake Bay Maritime Museum. The suggested bike route snakes though the back streets of town and past the harbor. There are a bunch of short turns in this section, so you might be better off following the map to the left.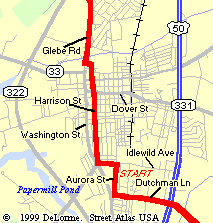 Detail of Easton, MD
From Washington, take Route 50 out past Annapolis and over the Bay Bridge. About 18 miles after the Route 301 split, Route 50 enters Eastern, MD. There are many gas stations, hotels, and restaurant along this built up section. You will be making a right turn onto Dutchmans Lanes, which is at a traffic light near the south end of the built up section. Travel about ½ mile on Dutchman, and then make a right onto Aurora St. There are many shaded parking spaces along the left side of the street, next to Idlewild Park.