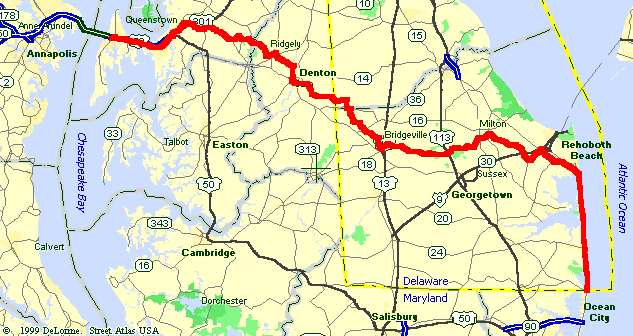 Map of Route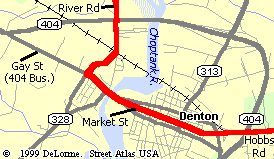 Detail of Denton, MD
If you live in the Washington DC area, it's a good bet that each summer you make the annual 2-3 hour drive out to the Maryland/Delaware beaches. For folks looking for an alternative to the long drive, this bike route will take you along the lesser traveled backroads of the Delmarva Peninsula.
Click Here for Cue Sheets
The route starts on Kent Island at the first exit after crossing the Bay Bridge (Exit 37). After exiting, make a right at the top of the ramp and then look for the Park and Ride lot on the left side of the road just south of Route 50. The route starts at the traffic light nearest the lot, crossing back over Route 50 to pick up Route 18 on the north side.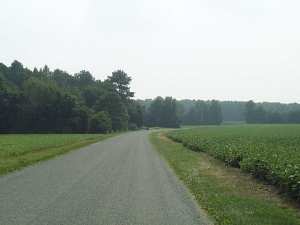 Typical Road along the Route
The first part of the route follows lightly traveled Route 18 over Kent Narrows to the 50/301 split. At this location there is a truly terrible crossing of Route 50 (PLEASE USE CAUTION). From Queenstown eastward, there is very little traffic. Route 309 is rather busy, but there is a fairly decent shoulder along this four mile section. After crossing into Delaware, the route closely follows the American Discovery Trail and then picks up Delaware Bike Route 1.
The Delmarva Peninsula is "real" flat. Basically, the only hills you will find are bridge overpasses. Because it is so flat there may sometimes be an issue with head winds (more a problem on the return trip). Also expect a very HOT ride. Summer temperatures are often in the 90's and there is not much shade along the mostly open farmland. Make sure you have plenty of water.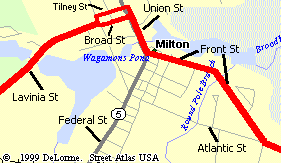 Detail of Milton, DE
Ideally, this would be a "more complete" route if it started in the metro area (on the west side of the Bay Bridge). However, there are a number of issues that really take the "fun" out of that endeavor. If you would really like to give this a try, then here is a route suggestion. To receive details about crossing the Bay Bridge without a car, contact the Maryland Transportation Authority at 410-757-6000 at least 24 hours in advance.