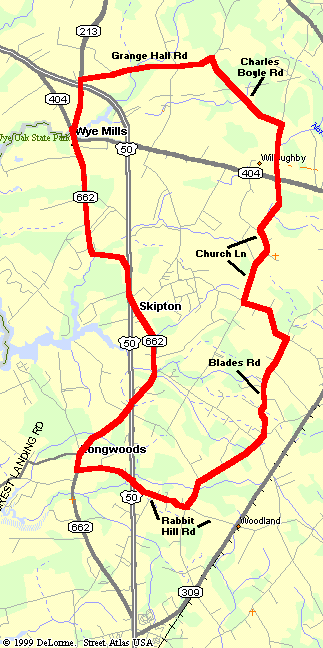 Map of Route
Headed to the beach for the weekend? Wye Not take a bike break on the way. This convenient route begins in the quaint town of Wye Mills, which is located just west of the Route 50 / 404 intersection. This is roughly the halfway point on the way to the beaches.
Most of the route travels through the wide open farm lands which are common to the Delmarva Peninsula. The terrain is just about as flat it gets, so some might consider this route to be a bit on the "boring" side. However, I find it makes a nice diversion on the way to the beaches. The ride is mostly in the open, so it will be very hot during summer afternoons.
The suggested starting point is the community pond parking area located across the street from the Wye Mill, a reconstructed early colonial grain mill. On your way out of town you will pass the former site of the 460 year Old Wye Oak Tree, which was the largest White Oak Tree in the US. Sadly, the old tree finally came down on June 6, 2002 during a thunderstorm. You also pass the Wye Church, one of the first Episcopal churches in the country. A bit further down the road you also pass a little red schoolhouse. After your return to town, check out the mom and pop deli located next to the post office. They make a pretty decent cold cut sub, which you can enjoy in the picnic area behind the mill.
From Washington, take Route 50 out past Annapolis and over the Bay Bridge. About 4½ miles after the Route 50/301 split, bear right on to 404. This will take you right to the Wye Mill pond. If you miss this turn off, then you can you can make a right after Chesapeake College on to 213.