CAUTION: Recent traffic pattern changes have made Piney Meetinghouse Road very dangerous during weekday rush hour periods. Avoid this route during these periods.
This shorter version of The Fletcher Loop makes another great route between Washington, DC and Rockville, MD. About 75% of the route uses area bike trails including the Rock Creek Trail, Capital Crescent Trail (with new Georgetown Branch), and the C&O Towpath. It also passes through the scenic Great Falls area and the expensive homes around Potomac, MD.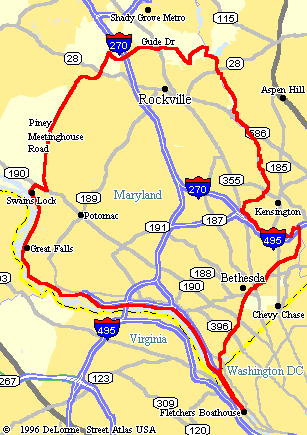 Map of Route
The new Shady Grove Road extension now provides easier access to Piney Meetinghouse Road. Unfortunately, this has also caused a significant increase of traffic on this once lightly traveled road. Since this narrow, winding road has no shoulders, I highly recommend that this section be avoided during weekday rush hour periods.
There are also a few other cautionary sections along this route. Beware of the Capital Crescent Trail on nice weekends when this trail is completely overwhelmed with kids and rollerbladers. The other problem area is the 1.4 mile section of East Gude Drive. A "side trail" is available, but it runs against the traffic, is quite narrow, and is always covered with debris and broken glass. There are only two big hills on this loop, at mile 19.5 and 29.0. The rest of the route is mostly flat with a few small hills. ATBs and/or hybrids are suggested since 13 miles are spent on the unpaved C&O Towpath.
Food is available in Bethesda (mile 5.0), Rockville (20.5), and Swains Lock (30.5). In order to reach Fletcher's Boathouse, you must be heading north (outbound) on Canal Road (There is no access for southbound traffic!). You can also get to the boathouse from McCarthur Blvd using Reservoir Road. Alternate starting points include Lake Needwood, Shady Grove Adventist Hospital, and Great Falls, MD. The route runs near to the Bethesda, Grosvenor, and Shady Grove Metro Stations.