This really neat route around Downtown DC is from a WABA sponsored ride. The route takes you through many of Washington's nicest neighborhoods, and some that have future potential. At least 65% of the route uses area bike trails including the Capital Crescent / Georgetown Branch Trails, and the Sligo Creek Trail. Eventually, the route will follow the proposed Metropolitan Branch Trail. The reminder of the trail is on lightly traveled back streets.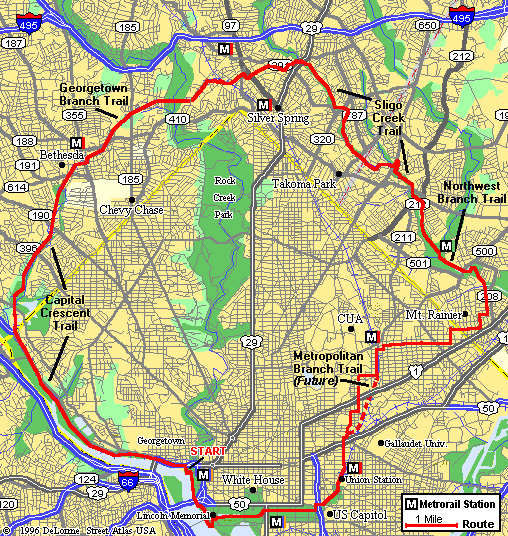 Map of Route - Point to Metro Stations for Names
This route will give you the opportunity to explore areas of town you may have never known existed. It also provides many great ideals for commuter biking routes. However, this route does go through some "questionable" areas of town, so I recommend that you try it first with a couple of friends. Note that a few sections are unpaved (particularly the Georgetown Branch Trail) so skinny tire folks should plan to walk in some spots.
There are very few hills on this route. The biggest one is around mile 21.4 (I guess that's why it's called MOUNT Rainier!). Food is available in Bethesda (mile 7.7), Mount Rainier (21.2), Brookland-CUA (23.3), and all along the last 4 miles. The route runs near many Metro Stations including Bethesda, West Hyattsville, Brookland-CUA, Union Station, and Smithsonian.