Miles: 27
Difficulty: III
Bikes:
ATB, Hybrid

Shenandoah River Ramble
---
Related Routes
---
Other Sites
An excellent route suggested by Steve Kuehm of Berryville, VA!
This little corner of Virginia is a cyclist's true paradise. The lightly traveled country roads pass the scenic farms, vineyards, and estates of the Shenandoah Valley. It is a bit of a haul from the DC area (about 70 miles), but it is worth the drive. This splendid ride is along the Shenandoah River in Clarke County, VA. A couple of killer hills, but primarily a scenic ride.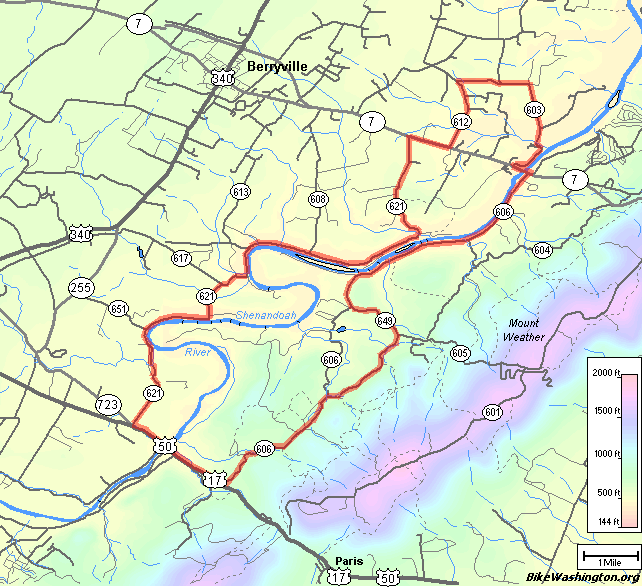 Map of Route

The suggested tarting point is the Shenandoah River Boat Ramp on the east side of the river, under the Route 7 bridge. The first leg is a flat, winding route along the east bank of the river. The next two legs are rolling hills, away from the river with a couple of steep climbs (of course there are a few steep descents, as well). At Route 50, you head west over the River and turn at the sign for Millwood. Within two miles you are again at the edge of the river. Paved for a while but then gravel for quite a spell - six miles. Turning away from the river there is a short climb back up the Route 7. Heading east on Route 7 one could continue all the way back to the starting point, but the turn on Rts 612 and 603 will take you past the Civil War battlefield of Cool Springs, past the Holy Cross Abbey where most of the engagement occurred, and then along the river's edge for another mile or so.

To reach the start from the DC Area, head out the Dulles Toll Road / Greenway toward Leesburg. At the end of the Greenway, follow signs to Route 7 West. Continue on Route 7 passing Round Hill and Bluemont. The start is on the other side of the mountain from Bluemont, VA.