Miles: 56
Difficulty: V
Bikes:
All

Blue Ridge Challenge
---
Related Routes
---
Related Sites

This is probably one of the prettiest rides you will find in the area. It passes the grand estates and orchards of Virginia's Hunt Country, and follows the spine of the "mysterious" Mount Weather. However, it also includes just about the meanest climb you will find in this section of the country. This ride is NOT for the faint hearted!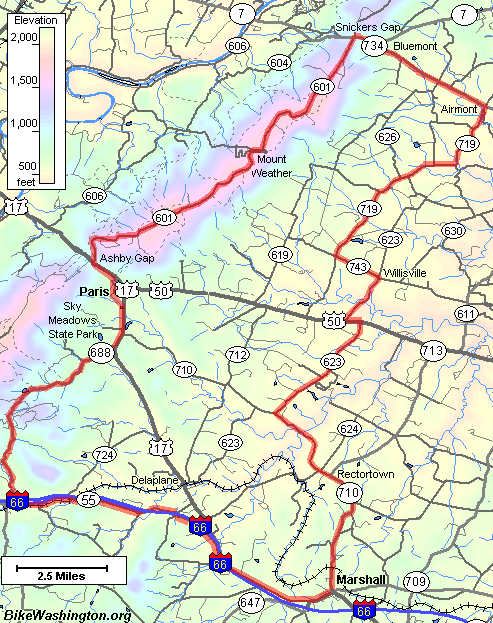 Map of Route
This ride begins in Marshall, VA which is located about 40 miles west of Washington just off I-66. The suggested parking area is at the VDOT parking lot, located about a quarter mile behind the 7-11.
The first 20 miles are actually fairly easy. Between mile 8 and 10 the route passes some really massive estates (you can't even see the homes). You might also note the "quaint" airport off to your left. By the time you reach Airmont, the ridge is looming large on your horizon.

Elevation Cross Section of Route

At the foot of the mountain is the town of Bluemont. I suggest that you top off your water bottle and maybe stuff a snack into your bag for latter. "The climb" begins just after you pass the General Store. If you think the hill leaving the town is bad, you might as well just turn around and go home because you have seen nothing yet! The next two miles average an 8% grade. (I could just barely "grany" up this monster).

After reaching the top, you will pass FEMA's Mount Weather installation (can you say "X-Files"?). Around mile 33 you finally begin the wicked decent down to Paris, Va. Drinks are available at the Route 50 intersection just as you come off the ridge road.

But wait, the fun is not yet over! The second major climb begins around mile 42. This is another steep climb, but no where near as long as the climb out of Bluemont. Once you top this section, there is a nice down hill run to I-66. The final 10 miles is a pretty casual ride along side the interstate.