The Baltimore and Annapolis Trail (B&A) is a nice trail for the whole family, but a bit of a drive from the D.C. Area. This trail is part of the East Coast Greenway.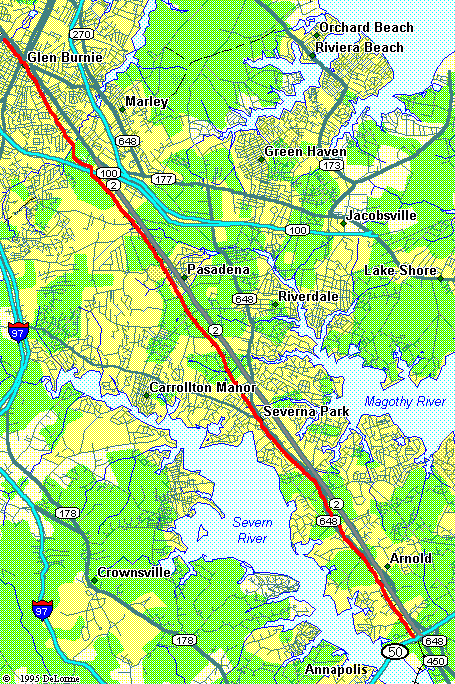 Map of B&A Trail
The trail has about an 8-foot wide paved surface and is in good condition. The total length is 13 miles between Annapolis and Glen Burnie, MD. Once you reach the northern terminus, a short connector path will take you over to the recently completed BWI Trail.
The southern half of the trail cuts through some nice suburban neighborhoods. As you head farther north, the terrain becomes much more urban. The path goes right past Marley Station Mall before taking you into downtown Glen Burnie. At this point, the B&A right-of-way is taken over by Baltimore Light Rail. However, you can continue biking another 12 miles by using the new BWI Trail network
Food is plentiful along the way, with stops available in Severna Park and Pasadena.
---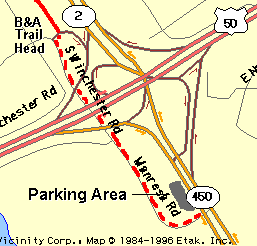 Southern B&A Trail Head
The southern trail head provides the easiest access from Washington. Just take Route 50 out past Annapolis. After crossing the Severn River, take the first exit ramp, exit 27, to Route 450. There is parking area just a few hundred yards from the ramp. (It is hard to see and you will probably drive past it.) The lot is not very large and so it can fill up fast on nice days.
---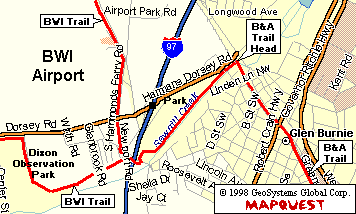 Northern B&A Trail Head
The northern trail head in Glen Burnie lies about 1 mile east of the I-97 / Dorsey Road Exit. It appears that parking may be available at Sawmill Creek Park and a senior citizen center, both located along Dorsey Road between I-97 and the trail. (Check signs for parking restrictions). If all else fails, you can park at the Dixon Observation Park, which is located about 1 mile WEST of I-97 on Dorsey Road. The B&A trails is easily reach from these parking areas using the BWI Trail Spur.