Bikes: Any
Difficulty: V
Miles: 105
(Each Way)

Skyline Drive
---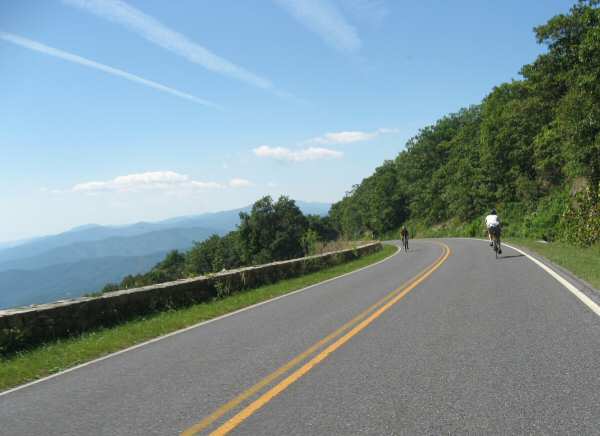 Overview Map of Skyline Drive

Beautiful Shenandoah National Park, located about 60 miles west of Washington DC, sits high atop a ridge line overlooking the Shenandoah River Valley. One particular aspect of the park is its 105 mile Skyline Drive, which runs the entire length of the park. A longtime favorite scenic drive, the route is often coveted by cyclist looking for a serious challenge.

Prior to my first asault on the drive

There are only four entrance points onto the drive. The north entrance is just out side of Front Royal, VA. The south entrance is near Waynesboro, VA. The middle two access points, Route 211 and 33, are very treacherous switch backing roads (not sure I would want to try biking on these bad boys!). As you might notice from the following elevation summary, Skyline Drive has some truly massive climbs. The first 5 miles includes a nearly 2000 foot climb. There are numerous scenic overlooks along the drive which offer good rest stops. However, food and water are not terribly plentiful (see que sheets for details). The park also offers campsites and overnight lodging. Big Meadows, located at the halfway point, is a popular camping destination.

Overview Elevation Summary
A few years ago, a friend of mine was doing a 30 mile section of the drive. After rounding one corner, he found a bear standing right in the middle of the drive (a fairly common occurrence). Instinctively, my friend went to roll up his windows, only then remembering he was on a bike! Fortunately, the park's bears are fairly accustomed to hikers and thus are not much of a problem. (the Appalachian Trail crosses the drive numerous times).
Note that bikes are only allowed on the drive (no trail riding!). However, there is some excellent mountain bike trails in nearby George Washington National Forest.