Here is a nice ride from the Greenbelt Metro Station out to the Patuxent Wildlife Refuge, by way of the US Agriculture Research Center. Most of the route follows lightly trafficked country roads. The few "busier" roads typically have good shoulders. There are some rolling hills just to keep it interesting, but nothing too challenging. 25 miles and a really cool visitors center as well. Bring your binoculars if you're a birder!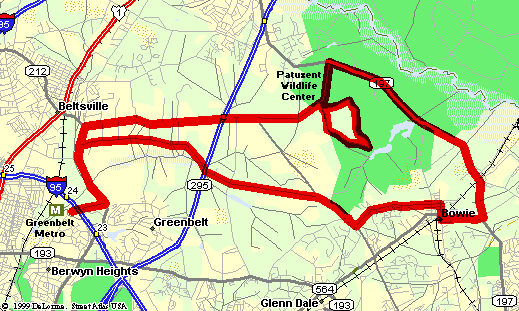 Map of Route

The suggested starting point is Greenbelt Metro Station, which is located at the very end of the Green Line. The best way for many folks to reach the start is to simply take your Bike-on-Metro. If you are driving from the north side of town, then you can take southbound I-95 Exit 24 right into the parking lot. If you are heading north on I-95, then you will need to use Exit 23 (Route 201), heading to Beltville. Follow signs to Metro. The actually route mileage begins at the Cherrywood Lane entrance to the parking lot.

Credit: Thanks to Michael Hallinan for suggesting this ride!