If you need to get away from the hustle and bustle of the DC Area, this great ride will do the trick. The route follows the lightly travelled country roads of the Cumberland Valley, located just east of Hagerstown, MD.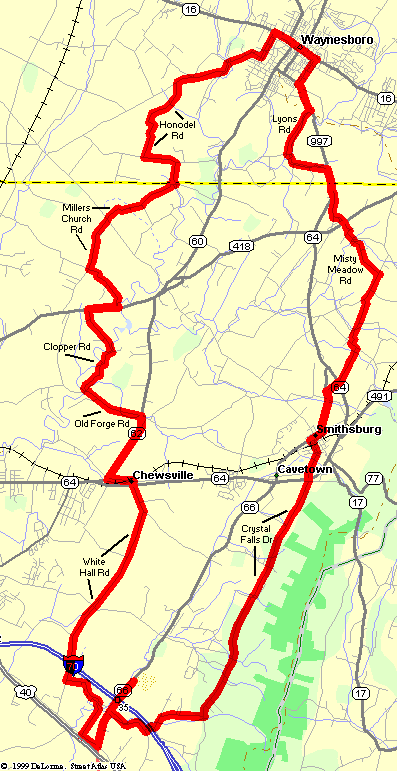 Map of Route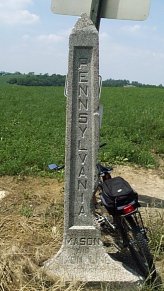 Historic Marker
The route begins in Maryland, just off Interstate 70. It then winds through the quiet farmland of the valley, and eventually "sneaks" across the Mason-Dixon Line into Pennsylvania. After a visit to Waynesboro, the route crosses back over the Mason-Dixon Line into Maryland, and follows scenic Crystal Falls Drive along the foot of South Mountain.
This is a fairly hilly ride, but there are no really tough climbs. One nice feature is that the last six miles or so are mostly downhill. Most of the roads used are lightly travelled and thus quite bicycle friendly. However there are a few short locations where the traffic can be a bit heavy, so you need to be comfortable in these situations before attempting this ride.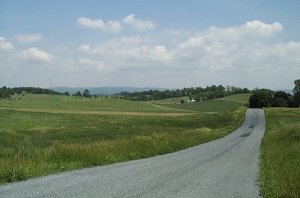 The quiet roads of the Cumberland Valley
The Mason-Dixon Line, which defines the border between Maryland and Pennsylvania, was often considered to be the unofficial dividing line between the North and the South during the American Civil War (even though both Maryland and Pennsylvania remained with the North). Some of the war's largest battles were fought in and around this valley.
Reaching the route requires a bit of a drive. The suggested starting point is the Park & Ride Lot located just north of I-70, Exit 35. This is a bit over an hour from the Capitol Beltway.
Credit: Portions of this route taken from: Chuck and Gail's Favorite Bike Rides, Chuck & Gail Helfer, Ride 63 - A Touch of Pennsylvania. (Out-of-Print)